Skin Tightening and Rejuvenation
Aesthetic Treatments:
Fresher and healthier skin can be achieved by removing sun damage, irregular brown pigmentation, fine red vessels and redness caused by inflammation. Skin laxity, textural changes, and wrinkles are caused by sun exposure, chronologic aging and genetic predispositions. After 30 years of age, our bodies no longer increase collagen (or bone). Energy treatments stimulate cellular collagen, elastin and ground substance production. Most patients notice an immediately brighter, lifted, more energetic appearance. Our aesthetic medicine procedures utilize non-ablative lasers, light sources, and radiofrequency (RF) energies for facial and body skin rejuvenation. Procedures are safe and ideal for patients wanting no down time, pain or high risk of side effects. We also offer natural rejuvenation with PRP (for skin and hair), but do not offer ablative or surgical procedures. Even patients who have had a prior facelift seek our treatments to improve the skin quality and to balance face and neck tightening. Our team has selected the safest effective technologies to give your skin corrective, maintenance and preventative results. Patients comment that results are quite "natural and youthful." Every day, we hear patients say in amazement, "…WOW, …I can see a difference, …OMG."
How treatments work:
We individualize treatments using radiofrequency, laser and/or optical energy together or in steps to achieve the best results. After treatment many of our patients see a "lift and luminous glow." The immediate improvement from the contraction of existing collagen fibers continues to improve over the next few days. After 3 weeks, the area is stimulated to produce new collagen, elastin and ground substance, furthering the long term results and additive benefits over time. Some of our treatments, you can not even feel; "..feels like having an ultrasound" and some are bright and require eye cover to be worn during treatments. The radiofrequency treatments do not require any eye cover and patients comment, "…it feels good, like a hot stone massage." Pain medication or numbing is not needed for skin tightening procedures in our office.
What we can treat:
Typical benign pigmented skin lesions include: sun spots, freckles, lentigines, age-spots, café-au-lait spots, and melasma. Benign vascular lesions in the skin include: facial small blood vessels, inflammation from rosacea, port wine stains, and redness and mottled pigment on the sides of the neck, chest and body from chronic sun exposure. The "lunch-time face-lift laser" is popular for fine lines on the face (especially perioral) and neck for men and women. Laser energy resurfaces and improves pores and skin texture; improvement you can see and feel. Skin tightening is maximized with radio frequency devices (concentrated thermal energy); which can be used on all skin types, lightest to darkest.
What to expect:
Our patients usually see a visible difference even after the first treatment. Serial treatments further the sustained long term and additive benefits over time. Most patients have 3 to 5 treatments, 3 to 4 weeks apart and then continue maintenance treatments every one to 6 months. The collagen benefits are cumulative and continue for years after therapy. Our MDs, PA, and RNs all work as a team to provide treatments. All patients are to continue a personal skin care regiment to improve and maintain treatment results. Unlike more aggressive treatments, there is no bruising or numbness from our procedures. Individuals do respond differently; genetics and starting point laxity will affect results and exact results cannot be guaranteed.
Not for You:
Patient's who desire dramatic changes in lax skin will be referred to a plastic surgeon.
Patients who have an implantable metal device, a pacemaker, or have a metal plate or nerve insensitivity specifically in the treatment area should not have radiofrequency treatments.
Patients with dark skin types should not use light based energy treatment.
See The Results
Compare the Right (Treated-Side) to the Left (Untreated-Side).
(Click to Enlarge)
Compare the Right (Treated-Side) to the Left (Untreated-Side). A benefit is already seen from the first skin tightening treatment. The patient will return in 3 to 4 weeks to continue a series for long term results. With no discomfort or downtime, patients see amazing results.
"I look 5 years younger already!"
"Love the lunchtime face/neck lift!"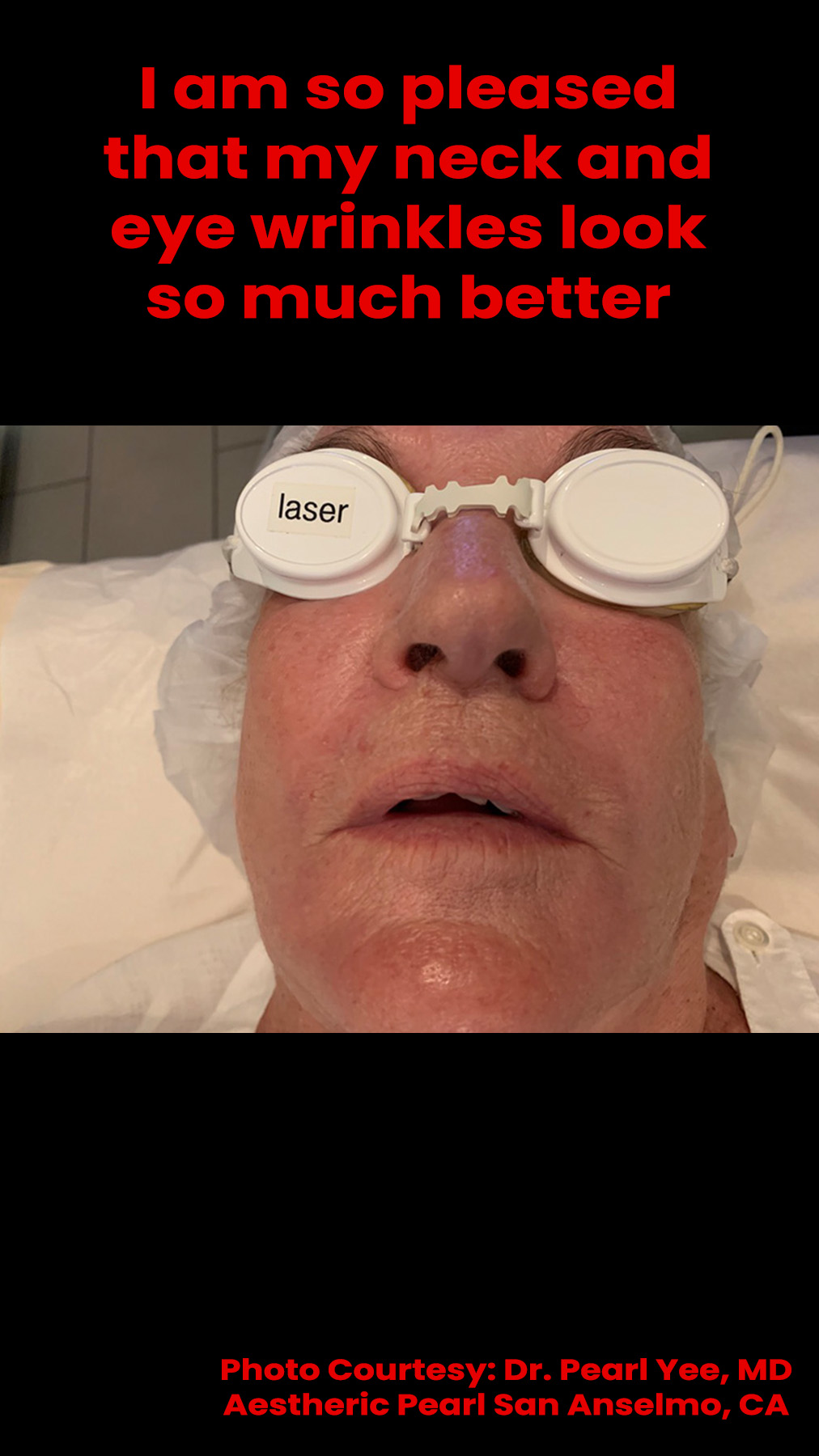 (Click to Enlarge)
One side of the face treated with our "lunch time face lift" to compare with the other side of the face yet to be treated. This only the first of 5 pain-free, no down-time treatments and the patient was so pleased, that she sent us a text the next day… "Thanks u guys are a miracle, I am so pleased that my neck and eye wrinkles look so much better. c u soon & enjoy the weekend"
"Patient showing our "lunch time face lift"
"Patient showing "Skin Tightening & Rejuvenation" Treatment
She sees visible lift and improvement of the Right side of her face after just one treatment. The improvement will continue over the next 2 days and will be maintained with a quarterly uplift at Aesthetic Pearl.
Before and After Photos of a client showing portrait view, profile view, and at a 45° angle. She completed the first of five in a series of painless, no downtime Laser, Light, and radio frequency combined treatments. She is amazed by the immediate results without any downtime or discomfort and the expected progressive improvement.