Testimonials
From Out Clients
*Disclaimer: Results are not guaranteed and may vary from person to person.
I have been going to Dr Yee for over 15 years and she is ABSOLUTELY the best best OB/GYN out there.  I recommended her to my friends and family and they love her too.  She was there for my 2 babies and she did a colposcopy for me.  She is always tender, respectful, sweet, and always makes me feel safe.  I had a terrible reaction to using Monistat 1 (warning never to use Monistat) where I got a chemical burn and was burning alive.  She prescribed one medication after another to help alleviate my pain.  She was so understanding and did everything possible for me.   THANKS SO MUCH DR YEE.  YOU ARE THE BEST!!!! *
"I wanted to let you know that the day after I had the treatment I looked in the mirror and I felt like I shaved 5 years off my face. Thank you so much, you are so good at what you do! "
Wow! You're amazing Dr. Pearl!!! What you with your machine can do! I already see the results of what you did yesterday. There were no redness. Smoother skin, more even skin tone and less puffiness under my eyes! Thank YOU!!!
Neck lift on the right side shows Improvement compared to the left untreated side. Patient stated "wow" and pleased with the immediate results using the Clear Lift – a painless and non-invasive laser treatment with no downtime. Quarterly treatments will be needed to sustain results year round.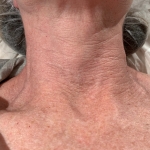 Get Amazing Results
Start Today!
Request your Consultation Right Now! Our Experts at Aesthetic Pearl want to help you achieve your aesthetic goals!
request a consultation
*Disclaimer: Results are not guaranteed and may vary from person to person.
To Aesthetic Pearl …You are apart of my internal healing.
I am an active working woman with fibroids for over 10-years. I had hoped they could go down by itself as menopause approached. When I couldn't bend down to tie my shoes without discomfort, I knew it was time to do something. I had some concerns as a working woman about recovery time.
Dr. Yee did laparoscopic surgery with the Da Vinci that enabled me to be in and out of the hospital in less that one day. The day after surgery I was at the computer and slowly doing stairs. Each day I was feeling better and stronger. At 2 weeks I was back to work on a limited basis and back to normal at 3 weeks. At 4 weeks, I did a 7-mile (flat) bike ride.
All in all, I was pleased at such a smooth and quick recovery. Many many thanks to Dr. Pearl Yee & her staff for excellent care and professionalism in every way.*
I had light therapy here to get rid of some dark spots on my face and I have totally noticed a difference! I have scheduled a full face treatment to zap the remaining dark sports and even out my skin tone.  I have also told my mom about these services and she is planning on coming in for the dark spots on her face and hands.  I can't wait to for my treatment again and walk out looking younger, ha!  *
Pearl Yee is an amazing doctor because she actually wants you to call her, not just the office, but actually talk to her.  I've had to call her twice and she has answered the page….immediately.  Also, her office has really comfortable chairs…not the metal and cold type, but the type that makes you feel comfortable. *
Dr. Yee is a miracle worker.  She is the only reason I was able to deliver my 9.9lb child naturally.  She is so dedicated, professional and warm, she made every visit a treat.  She sees you at every visit, actually delivers your baby and never makes you feel rushed or uncomfortable.  Not to mention the office girls are amazing, they are genuine and professional. Love love love this office and this OB-best ever! *
I've been a patient of Dr. Yee's for several years and I simply can not say enough good things about her professionalism.  I especially like her new office since she separated from her old practice couple years ago.  I am surprise to see a single negative review about Dr. Yee, but I think most of the negative reviews describe the old practice but not Dr. Yee personally.
She's no longer at the Irving & California office (only her old group stays there).  Her new offices are now on Ocean Ave. in Lakeside & on Powell Street in Chinatown.  I like the fact that now Dr. Yee takes care of all of her patients and it is no longer the on call system.  Back in those days when she was with her old group, you never knew who you would get to deliver your baby and it would  be one of the on-call doctors from her old group.  And it was difficult to stick with one doctor (i.e. Dr. Yee) for the monthly prenatal checkups.  Now not only that I got to see Dr. Yee at every visit, she was the one who delivered my baby as well.
I just had a very smooth delivery (only 10 minutes & 2 pushes, baby was out!) and Dr. Yee did a very good job.  This was my second baby, and this time I did not even need pain killer after the delivery and I was able to walk around the next day and back to my normal self within a few days.  I think it all had to do with Dr. Yee's flawless "repairing" skills.  I do agree that Dr. Yee does everything very fast (from routine checkups to childbirth delivery), but if a perfect job can be done within a very short period of time, isn't that better?
Do expect a little wait at her office because now she's the only full time doctor and sees all of her patients.  But the wait is definitely worth it.  Choose Dr. Yee as your OB/GYN and you know you are in good hands! *
After moving to San Fran, I was sad to leave my doctor behind. I loved him. His dad was my mom's OBGYN. I trusted him. Loved that he was voted one of the best in New York. I even considered flying home to see him. Then I took a chance…and I am more in love with my new doctor.
Dr. Yee was recommened to me by the crappy CPMC Family Practice so I had low expectations. I am happy to report her service is 5 stars. She is so friendly and puts you immediately at ease. She's young and hip, and makes me feel like I can ask about anything. I can't imagine my good fortune, finding a friendly doctor that is an amazing clinician is unheard of. I would highly recommend her to anyone in the market for a new GYN. *
I had a great experience here.  I was scheduled to have the laser hair removal and cellulite treatment (doesn't hurt to try right?) done.  The nurse that worked on me was very friendly and made me feel very comfortable.  I was definitely a little nervous having this work done on me but she made me feel at ease.
For the laser hair removal, there's a numbing cream they use so there was no pain for me during the process.  There were also no residual effects.  Even after one treatment, I noticed that there is less hair and they're more fine.  I look forward to my next treatment.
As far as the cellulite treament goes, I was skeptical because 1) it's not a huge problem for me so I wasn't sure what kind of results I'd get and 2) magazines & professionals say you can't really get rid of cellulite.  I didn't really get a chance to look at my legs after it was done but the next day, I looked, I definitely noticed a difference.  Even for someone who doesn't have a problem with cellulite, I noticed a difference, that's promising.
Again, looking forward to my next trip so I can be hair free!! *
The day I was lucky enough to meet Pearl Yee and have her become my surgeon (and subsequent ob/gyn) was one of the most fortunate days of my life. Dr. Yee has been consistently kind, committed and highly skilled. She follows up after hours, on weekends, whenever she is needed.
When I had surgery about two years ago, Dr. Yee saved me from a highly invasive procedure by using the most progressive techniques available coupled with her exceptional skill level. She is truly understanding of a woman's fears and concerns and met every single one of them with outstanding professionalism.
Thanks to Dr. Yee, I am a happy, healthy, fully intact woman with nothing but an itty bitty scar that  is being lasered away for free. Yes, for FREE, because that's how she is. She is the best doctor I have ever had and an exemplary human being.
To the people who had a bad experience, I am truly at a loss for an explanation. All I know is that I am filled with gratitude for having Dr. Yee enter my life when I needed her most. Thank you. *
I've been with Pearl Yee since 2000 after I suffered several miscarriages which my other ob didn't seem concerned about. 12 years later with two beautiful boys ( ages 10 and 8.5) I feel lucky to have a doctor as knowledgeable and kind as Pearl Yee. After the birth of my second son, I also struggled with some incontinence issues. Every time I sneezed, I would pee. Needless to say, this was a MAJOR hassle. Pearly Yee inserted a sling ( surgically) and in the 8 years that I have had the sling, NO PROBLEMS!!! Thanks! *
"I wanted to let you know that the day after I had the treatment I looked in the mirror and I felt like I shaved 5 years off my face. Thank you so much, you are so good at what you do! "
"Lunch Time Face Lift"
with Harmony XL Pro
Through Harmony XL Pro , we offer patients a non-invasive cosmetic treatment to help them achieve their skin goals without the time, expense, and discomfort of cosmetic surgery.
(415) 405-0200
*Disclaimer: Results are not guaranteed and may vary from person to person.